Wednesdays, Jan. 21 thru Feb. 25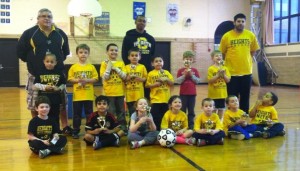 @ Oxford Elementary School Gym, 939 Quilliams Rd., Cleveland Heights
K-1st graders: 5-6 p.m.
2nd and 3rd graders: 6-7 p.m.
4th-6th graders: 7-8 p.m.
Cost: $75.
Heights United Soccer Indoor Academy has been developing soccer players for over 17 years. Our focused soccer curriculum is designed to rapidly improve soccer technique and help your player have a better tactical understanding of the game.
Each week, players will participate in 30-minute foot skills sessions and 30-minute "small-sided" soccer games designed to maximize touches on the ball. Heights United takes only 30 kids per age group per session, so that every player will receive individual instruction from the head coaches of Cleveland Heights High's teams.
Registration is required. We're accepting 16 players per age group. You can pay now online or at the first session with check (made out to Heights United) or cash. Everyone should download and fill out these forms and bring them to the first session. Register by clicking the appropriate button.