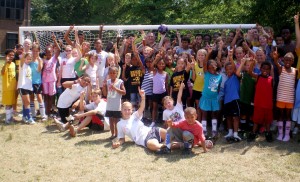 Monday-Friday, June 20-July 22, 9 a.m.-3 p.m. (except July 4)
@ Oxford School, 939 Quilliams Rd., Cleveland Heights (Mon.-Thurs.) and Denison Park, 1015 Quarry Dr., Cleveland Heights (Fridays)
$545 per student for the full camp
Session 1 only (6-20 thru 7-6): $315 • Session 2 only (7-7 thru 7-22): $315
Any 12 days: $315 • Any 5 days: $160
Camp basics
Heights United's summer camp is well known throughout Northeast Ohio for developing the "Total Soccer Player." From beginner to club to premier, Heights United adapts instruction to meet the needs of the individual. We give equal attention to basics (passing, trapping, control, speed and agility) and advanced techniques (creating space, first and second touch, finishing, and adjusting speed of play). Sportsmanship, pride and confidence are modeled at all times by the Heights United staff. Our counselors are former HUSA campers and longtime youth and high school soccer players. Come see why Heights United is recognized as one of the top soccer camps in Ohio. Read some testimonials here. Find all the summer camp details here.
New this year: On Fridays, we will meet at the turfed field at Denison Park, one of the finest soccer fields in the state!
Sibling discounts available. Returning campers can earn discounts by referring new campers. Bring in FIVE campers and receive a FULL scholarship! For more information on partial scholarships and referral incentives please contact HUSA director Sean Sullivan at 216-849-4505.
You can register and pay online. Paying by check: Payable to Heights United, mailed to 1401 Lynn Park Dr., Cleveland Heights, OH 44121. A payment of 50% secures a spot, balance due on the first day that the child attends camp. After registering, please download these forms (PDF), fill them out and bring them on the first day that you child attends the camp.